The automatic plucker type:

sp/a/rot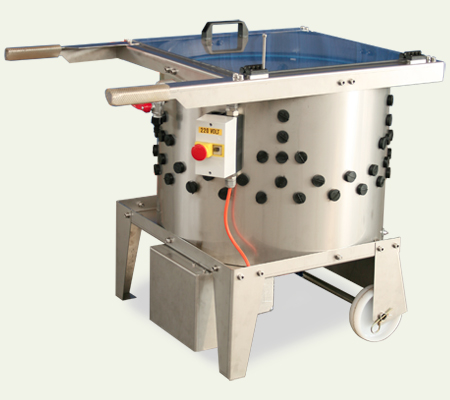 Automatic machine to make the plucking of all poultry farm and game animals
Fully automatic machine easy to use to make the total plucking of all poultry from quails to turkeys without requiring any adjustment.

The use is very simple, just put in the plucker the animals after have burnt them for a few seconds in water at 70°/80°C and remove them after a few seconds completely plucked.

Is it not necessary hold the animal with the hands during the plucking operation, the machine makes everything by itself thus avoiding that the operator may come in contact with the moving parts.

The loading capacity of the basket allows to pluck contemporarily more than one animal at time according to their dimension.

The execution of the work happens cleanly and silent, the lid avoid splashing water and feather throwing toward the operator.

A perforated pipe washes continuously with water the animals and the feathers are taken away through the drain.The machine is suitable for small craft farms, agro-tourism and family use.

The machine do not required maintenance, only to be cleaned with water throw after the use.
Benefits
execution speed and reliability

automatic processing

more animals at a time

not dirty and is silen

no risk for the operator
technical features
Power 1 Hp with thermal protection relais
200 BIG RUBBER TOE FOR A PERFECT PLUCKING
WHEELS FOR EASY MOVEMENT
SAFETY SWITCH
STAINLESS STEEL STRUCTURE (AISI 304) S
LENGHT 100 cm
WIDTH 75 cm
HEIGHT 75 cm
WEIGHT 50 kg