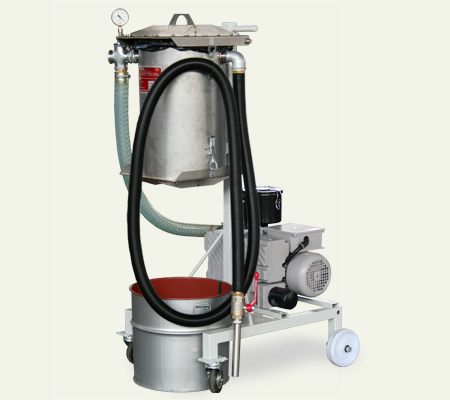 Machine for the evisceration with automatic discharge and basket collection for entrails.
Fully automatic machine easy to use to eviscerate all poultry from quails to turkeys without requiring any adjustment.

The use is very simple, the evisceration start after having introduced the pipe in the animal and after having switched on the pump. After few seconds it os possible to remove the poultry completely eviscerated.

The execution of the work happens cleanly and silent, the entrails will be utomatically descharged in to the bucket.

.The machine is suitable for small craft farms, agro-tourism and family use.

The machine do not required maintenance, only to be cleaned with water throw after the use.
Benefits
execution speed and reliability

automatic processing

automatic discharge of entrails

not dirty

no risk for the operator
technical features
SUITABLE FOR EACH KIND OF POULTRY
WHEELS FOR EASY MOVEMENT
SAFETY SWITCH
STAINLESS STEEL STRUCTURE (AISI 304) S
LENGHT 65 cm
WIDTH 85 cm
HEIGHT 130 cm
WEIGHT 77 kg
technical features
SUITABLE FOR EACH KIND OF POULTRY
WHEELS FOR EASY MOVEMENT
SAFETY SWITCH
STAINLESS STEEL STRUCTURE (AISI 304) S
LENGHT 65 cm
WIDTH 85 cm
HEIGHT 130 cm
WEIGHT 77 kg