Scalding tanks type:

80L/el
Scalding tank with electric heating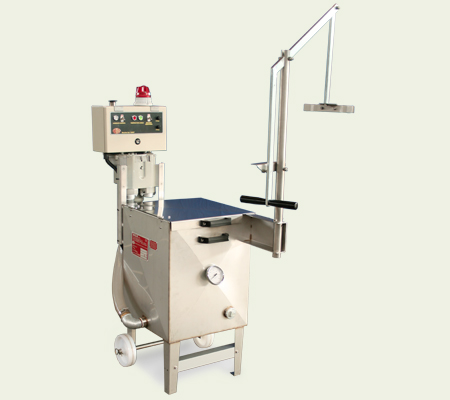 Diving tank of 80 liters for the scalding of the poultry with electric heating system and mechanical arm.
This machine has been realized to be approached to the automatic plucker.

It is possible use the mechanical arm for the poultry dive in the water and to put them in the plucker after the scalding. A red led will light on after have connected the tank to the main supply.

Turn on the lever microswitch and when the water reaches the set temperature a green led will light on as confirmation that it is possible to work. Turn the arm in load position, using the automatic hook, hang up 6 quails or 2 chickens or 2 guinea fowls or 1 capon or 1 turkey.

Turn then it in the central position it is possible begin with the dives. This is done without tiring the operator, avoiding danger of burns.

At the end of the necessary dives, (depending of the dimensions of poltry), turn the arm directly at the centre of the automatic plucker and let dropl the animal in the rotating drum.

The machine do not required maintenance, only to be cleaned with water throw after the use.
benefits
programmable thermostat for heating and keeping constant the water temperature

thermometer for visual control of the water temperature

drain valve at the end use

servo arm
technical features

tank capacity 80 L
servo arm
snap hook
THERMOMETER INCORPORATED
POWER CONNECTION 220
POWER 1.5 kW
STAINLESS STRUCTURE (AISI 304)

LENGTH 50 cm
WIDTH 50 cm
HEIGHT 150 cm
EMPTY WEIGHT 15 kg