slaughter tank type:

sc/un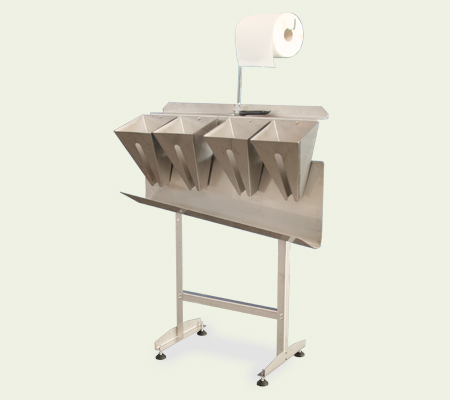 slaughter BLOOD-DRAIN complete with a blood collector
Equipped with different cones size according to the dimensions of the animals.

After have mounted the four cones suitable for the animal to bleed, introduce the stunned animal in the cone and proceed with the slaughter and bleeding.

The blood draining will be collect in an inclined basin that takes him into a container, lets clean the workplace.

The supplied cones allow the slaughter of all type of poultry, from quail to turkey. It is not required maintenance except cleaning with water throw at the end of use.
benefits
universal: suitable from quail to turkey
cones rapidly interchangeable
complete with blood collection tray
not dirty
technical features


interchangeable cones
bllod drip tray
STAINLESS STEEL STRUCTURE (AISI 304)


LENGHT 45 cm
WIDTH 95 cm
HEIGHT 160 cm
WEIGHT 15 kg