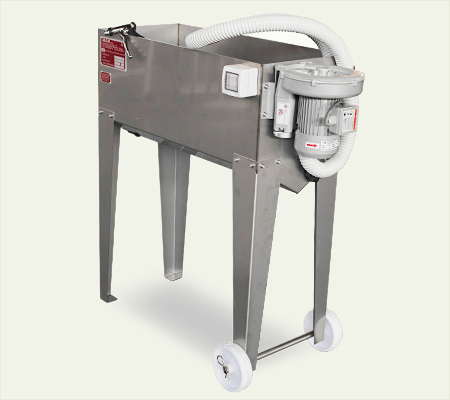 TANK FOR THE COOLING, CLEANING AND DRYING AFTER EVISCERATION
Practice tank with wire mesh bottom to make the washing and cooling with a water-jet and a dry with air blown by a miniturbine.

After evisceration, it is good hygienic practices to proceed immediately to the cooling, the washing and dying of the animal being careful to eliminate possible residues of organic material remained in the animal during the evisceration to prevent the proliferation of microbes.

The use of the turbine allows to dry quickly the animals.

The tank is very practical and allows it to be approached to the evisceration table.

It is not required maintenance except cleaning with water throw at the end of use.
benefits
spray gun for washing
mesh bottom for draining

water collection tray

turbine blower
technical features
STAINLESS STEEL STRUCTURE (AISI 304)
GRID BOTTOM
turbine for drying
discharge pipe
LENGHT 90 cm
WIDTH 45 cm
HEIGHT 90 cm
WEIGHT 12 kg