Multiuse table type:

tv/m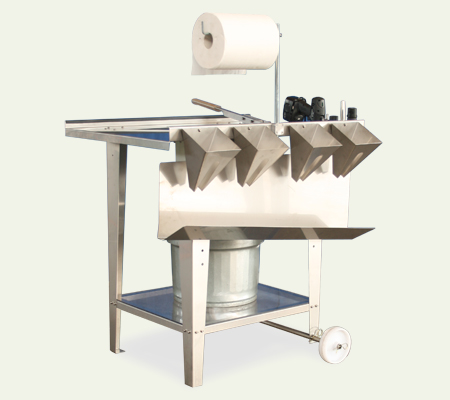 Table for throat cutting, evisceration and the slaughter of poultry and game animals.
This handy table made entirely in stainless steel AISI 304 is suitable for many uses, including the evisceration and the slaughter.

The large working surface has a central hole that connect the working area with a trash bag to collect all evisceration waste.

When the gutting operations are finished and clean the work surface, it can be used for the slaughter always using the center hole to eliminate any waste.

The table has a paper-roll holder for hand-cleaning, which can be used independently by both sides.

After the use, it is very easy to clean, simply remove the trash bags and wash with a water throw.
benefits
compact but allows two operators to work simultaneously
central drain, waste ranging direttamennte in a plastic bag
mounted on wheels for easy movement
technical features
Working plan for evisceration and
slaughter with waste discharge.
a basin to cellect blood
connectino to a trash bag
STAINLESS STEEL STRUCTURE (AISI 304)
LENGHT 100 cm
WIDTH 70 cm
HEIGHT 90 cm
WEIGHT 25 kg